We partner directly with Colorado Mesa University and Colorado Mountain College to provide our Guardian Scholar recipients with financial aid and ongoing support to help them graduate with an undergraduate degree and ultimately succeed in their pursuits.
THIS SCHOLARSHIP IS INTENDED ONLY FOR STUDENTS FROM EAGLE COUNTY, COLORADO.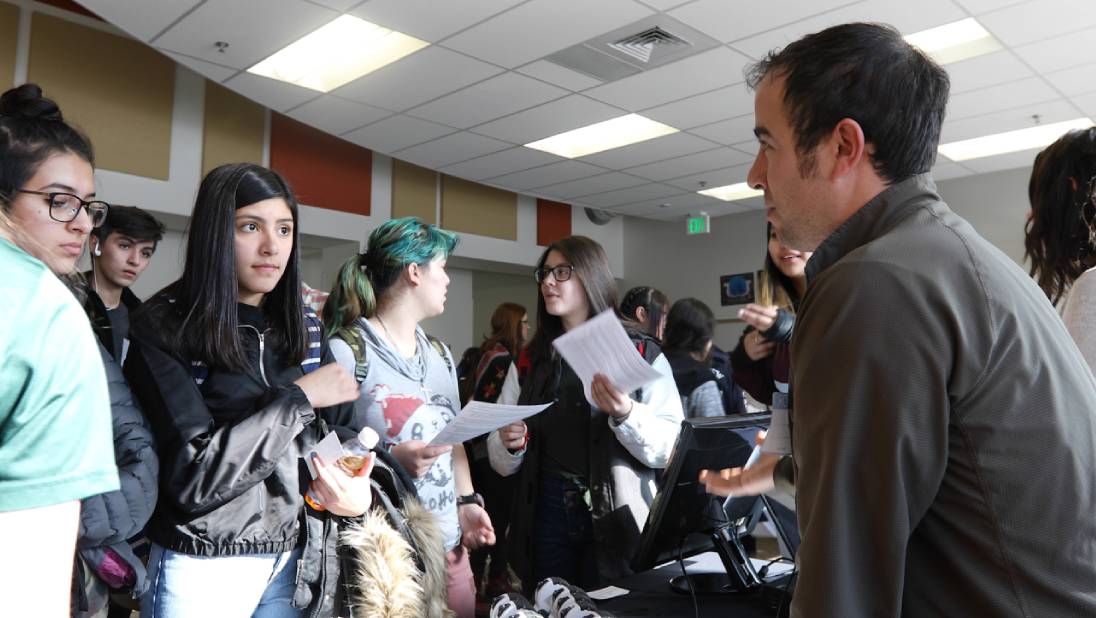 Annual scholarship application due dates are posted on the application. Late or incomplete applications will not be considered. Candidates who complete the application will be notified if they will be invited to participate in an in-person interview as a finalist. The candidate interviews will be held in the spring. Candidates will be notified of final awards in early May.
Guardian Scholars
Scholarship Information & Requirements
The Guardian Scholarship is a comprehensive Renewable Scholarship to

Colorado Mesa University or Colorado Mountain College

 

The Guardian Scholarship Includes Tuition, Room, Board and Books

The Guardian Scholarship includes Life coaching and mentoring 

The Guardian Scholarship includes Career exploration and internships

 The Guardian Scholarship includes Financial Budgeting and an expectation that Scholars graduate without debt
Guardian Scholars Criteria for Application
Applicants MUST be a graduate from an

Eagle County, Colorado

High School with a minimum 3.0 cumulative GPA

Priority given to students who are the first generation to attend college

Consideration will be given to students who have overcome significant personal obstacles

Student qualifies for Federal and State Aid based on FAFSA
Guardian Scholars Personal Characteristics
Guardian Scholars are students who demonstrate a desire and ability to overcome obstacles and barriers in pursuit of their dreams and to achieve their goals. Your 2 page essay should best illustrate your:
Individual determination to succeed

Future goals and desires to achieve them

Self-motivation 

Personal character and values
Information Required for your application:
Be sure to have the following information before starting your scholarship application. Once you begin the application process, all content must be completed. The application content cannot be saved and re-opened.
Your Scholarship Essay and photo.

High School and CMC Transcripts –will be requested from the high school guidance office after you have submitted your scholarship application.

Include SAI (Student Aid Index) from your completed FAFSA in your application. A copy of your FAFSA confirmation of submission and Student Aid Report will be submitted to the Guardian Scholars before finalist interviews.

Submit one Letter of Recommendation from a teacher, mentor, or employer submitted to the guidance office by the application deadline date.

Include one Reference (other than your letter of recommendation) include name, e-mail, and phone number of your reference in your scholarship application - someone who will attest to your character.

Confirmation of Admission to Colorado Mesa University or Colorado Mountain College.
Application to Outside Scholarships
If accepted into the program, Guardian Scholars are expected to apply to outside scholarships throughout college during each year of their participation in the scholarship.
As an aspiring applicant, we encourage you to apply to additional scholarships during your initial application process, as well. We receive many applications from highly qualified students, and we are unable to fund all qualified candidates who apply to Guardian Scholars. 
If you have questions prior to starting your scholarship application, please contact Susie Davis at [email protected] or 970-977-1093
The Application Process is critical to program success, including both a written application, with an essay and a face-to-face interview for finalist candidates. The essay should include a description of overcoming obstacles your life, dreams for your future, and how the Guardian Scholarship would enable you to achieve those dreams. Applicants are interviewed to assess maturity, desire, motivation, sincerity, and ability to transition to a college lifestyle. The interview has proven critical to program success. Other considerations include high school grades, ACT/SAT scores, references, extra-curricular activities, and community service. Interviews are conducted by engaged community participants who are decision-makers in the final selection process.
The effectiveness of the Guardian Scholarship program is attributed to its very "hands-on" support system, which establishes apparent expectations of the Scholars. Student Scholars represent themselves both as individual scholars and members of the Guardian Scholar community throughout their academic careers, actively participating in their community, their college, and the Guardian Scholar family. 

"Without the Guardian Scholars I would not be where I am today. I would have not found my calling in the career I chose, I would not have met my closest friends, I would not fallen in love with my career, and I would not be the person I am today."
-Nicole, CMU '20

"I remember when I first got the scholarship, I was very excited and happy. I couldn't wait to attend college. You gave me an opportunity to get an education, and education means a lot to me. I think without it, I would not be in the position I'm in right now, with a good career and I'm truly blessed about that."
-Alex, CMU '17

"Because of this amazing program, I'm now confident I can do everything I set my mind to do. I have built a super strong networking foundation that has taken me places and I know it will continue to do so in the future."
-Jennifer, CMU '18

"The Guardian Scholarship has meant the world to me. I am extremely grateful to be part of this wonderful family. Without their support, I would never have had the chance to be where I am today. It has been a blessing to have met so many amazingly kind individuals who believe in me and help support me in following my dreams. I am really excited for the day that I will graduate with my Bachelor's degree in Exercise Science with a Minor in Chemistry….all in high hopes of achieving my dream of becoming a Physician's Assistant. Once again, thank you all for everything you have done for me. I am proud to be called a Guardian Scholar!"
-Gustavo, CMU '22

"Without the Guardian Scholars I would not have found my calling to be a teacher.  I would not have met my closest friends, I would not have fallen in love with my career, and I would not be the person I am today."
-Nicole, CMU '20

"Being a Guardian Scholar has done so much for me. I feel like I am part of a family who genuinely cares for me and will offer unconditional support. With this care and support I've learned to never give up and to keep pushing for the things I once thought were unachievable. I am blessed to be part of the GS family." 
-Sydney, CMU '22

"The Guardian Scholarship has played a key role in my success. The support and opportunities I have found through this scholarship are truly a blessing in more ways than one. I have been given an opportunity for growth as a student, an individual, and now in my career after college." 
-Jasmine, CMU '20

"The Guardian Scholarship has totally impacted my life. I am a first-generation college student. I knew from a young age I was going to have to find a way to pay for college myself. My mom has always tried to help me achieve my goals. One of her biggest dreams was for me to go to college, so this scholarship is a true gift., to me and to my mom."
-Alexandra, CMU '23

"The Guardian Scholarship is filled with wonderful, caring people who have helped me more than I can count. I have had endless support with my classes, my physical and mental health, and feeling comfortable moving three hours from home. I love all that I am learning and experiencing."
-Taylor, CMU '23

"The Guardian Scholarship has allowed me to attend CMU without worrying about my finances. I have also learned so much and have met so many helpful people because of this scholarship, from internships to CMU "professors, I am grateful."
-David, CMU '23

"The Guardian Scholarship has positively impacted my life by teaching me to set new and reasonable goals that will benefit me in the future. It has also helped me get out of my comfort zone and get to know new people. It's made me more responsible and open-minded about what I want the outcome of my future to be."
-Stephany, CMU '22

"I am grateful for the opportunity GS has granted me and for supporting me through my first year of college. The support the GS family gave me made my transition from high school to college go smoothly and facilitated being away from home for the first time."
-Alejandra, CMU '22

"I'm so grateful and lucky to be a part of the Guardian Scholar family! I get to know some very intelligent and humble peers and have a support system to fall back on."
-NIma, CMU '22

"This program has changed my life in so many ways. Not only has this program offered me an education, but it has also changed me for the better. I would like to thank all the GS mentors and angels. Knowing we had your support has been tremendously helpful. Thank you for believing in all of us."
-Liz R, CMU '21

"Thank you, Guardian Angels, for the unconditional support, especially during the uncertainty of the global pandemic. Getting through and finishing this semester would have been much harder without your support."
-Clarissa, CMU '21

"I'm grateful to have the Guardian Scholars and Angels support me through this process. It is amazing to know I am not alone and have someone encouraging me through higher education and on to my career."
-Veronica, CMU '21

"All those late nights, stressful days, meditations, hard work, and happy times came down to the Bachelor's degree I finally received. I am grateful because I got to go to college, something my family has not been able to achieve in the United States. I am happy I have paved the way for my sisters by showing them there is a way to achieve your dreams."
-David, CMU '20

"Guardian Scholars have provided me the opportunity of a lifetime."
-Kim, CMU '20

"The GS family has impacted my life by once again giving me the support I need to achieve my goals and dreams."
-Andrew, CMC '20